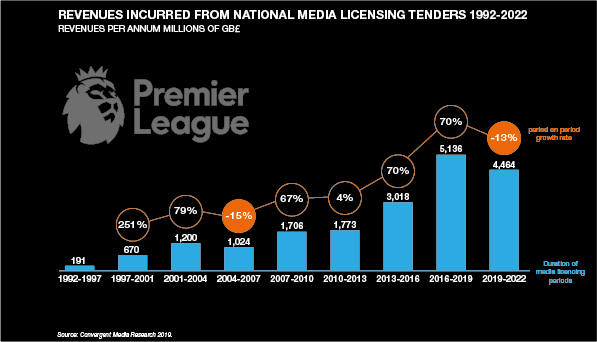 All industry eyes seem to be focusing both the fictional and factual entertainment content SVOD market as well as the developing showdown between Disney and the younger contenders. Quite wrongly, however, the risks developing in a market segment, that reigns supreme among the critical success factors in pay-TV, seem to be ignored by many: premium sports.
In several European markets, it seems to show that more expansions and differentiations of single sports events, match day schedules, international competitions and tournaments will not result in higher revenues for leagues or subscriber growth in pay-TV. In 2018, for example, the category leader in professional football, the English Premier League, had to face a -13 percent decrease in their revenues from national audiovisual media rights – the first setback in 15 years of growth.
Such developments are not limited to professional football but do take place in other heavily televised sports too. Nevertheless, due to the high level of public, media and political interest, some of the risks other sports will be facing, seem to occur earlier and more evidently here:
Media politics challenging total buy outs of all live matches by pay-TV operators (free TV live coverage discussion in Austria),
Supporters protesting additional match days per weekend (Bundesliga Monday night matches),
No single buyer rules for all live media rights forcing consumers to subscribe to several pay TV or streaming services to watch all games of their favorite team,
Teams facing commercial conflicts of interest (lower pay TV reach translates into lower media value generated translates into lower sponsoring revenues),
Increase in team owned media offerings dilute value of exclusive pay TV rights
The existing high level of media rights cost in several European markets,
are examples for the growing number of business case risks in key nodes of the premium sport ecosystem.
Assessment: In the future, it will be harder to spin a growth story based on premium sports rights that will work for all partners involved. While premium live sports was the only reason for consumers – in German speaking countries at least – to pick up a pay TV subscription, pay TV service providers are facing a tougher competition today, when it comes to securing a share of consumers' overall premium content budgets. Premium sports businesses will have to develop product/market strategies which reflect consumer preferences more comprehensively, in order to secure current levels of value created and to achieve additional growth. Formula One may serve as a warning, how quickly value levels depreciate across all elements of the value chain, once inappropriate product strategies have been deployed.